Here is another fun, easy project you can make for your shop or home. I made my first set of frames years ago to display all my fabulous earrings in the open so it was easy to pick and choose what to wear. You can make 1, 2, 3 or more frames in different sizes to suite your needs. I made this set of three frames for a friend's birthday. They are all second hand frames I picked up at different times and just painted them to coordinate.

What you need:
Frames (as many as you want in different sizes)
Paint
Mesh screen (Not household screen but larger gage wire screen from the hardware store. It comes in various size openings like shown below.)
Wire cutters
Staple gun

I bought frames without glass so I didn't have to waste it. If you find a frame you like that has glass you can dispose of it, give it away on Craigslist or think of something creative to do with it. I picked out three coordinating frames, two that had gold and one plain brown. I painted the large frame black and antiqued it then painted part of the small frame in black to match. I also recommend finding frames that are solid wood and have enough depth in the back to staple to.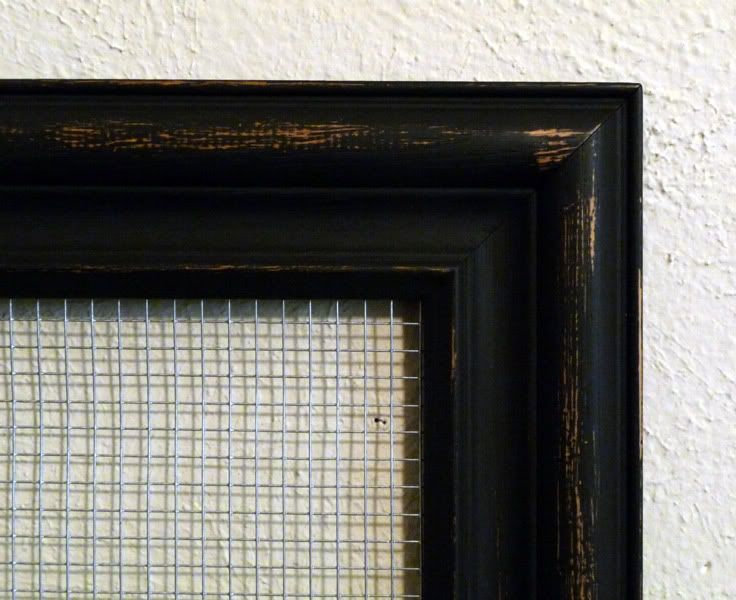 The next step is to cut and adhere your wire mesh to your frame. I used the opening of the frame to mark my wire and because I had deep frames I added a 1/4-1/2 inch to all the sides so I could fold the edge over and staple into the side of the frames. This way the wire was contained and I didn't have it scratching my wall. If you don't have very deep frames you can add an inch to all sides and simply staple to the back of the frame. If you're worried about scratching your walls use strips of felt and a glue gun to cover the rough wire around the back of the frame. Just make sure that it is not visible from the front.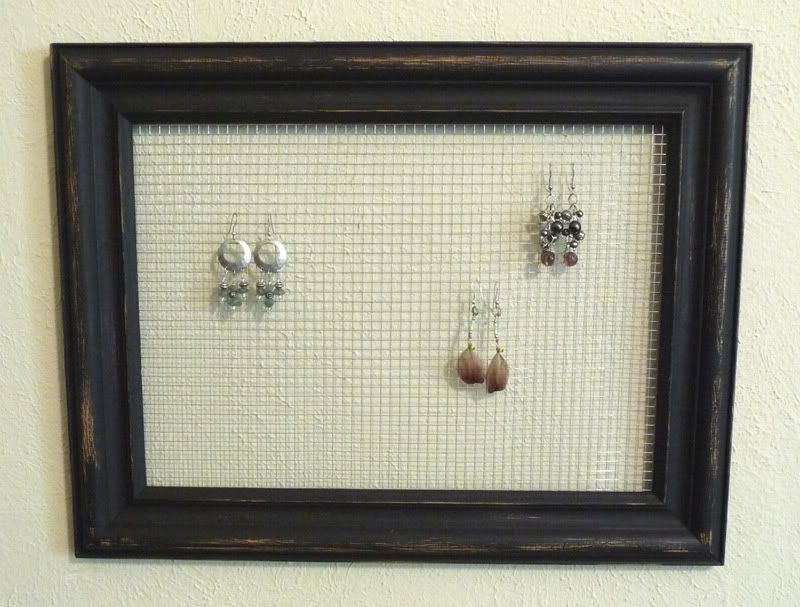 And voila, your done! You can now hang your frame(s) on the wall or I have also used mine with a stand at shows to display my jewelry for sale. One last tip...depending on what type of wire mesh you get (stainless, galvanized, etc.) you may want to spray a couple layers of clear acrylic on it so you don't turn your silver jewelry. I only had problems with my sterling silver but some cheaper metals can turn as well if your not careful. Some hardware stores sell wire mesh that is coated with a thin layer of plastic coating. It is more expensive but a good option if you have lots of sterling silver you'd like to display.

Here is a great tutorial from The Borrowed Abode on how to make a larger wall display with old windows like the one above. This is great for someone who has a shop or workspace with ample wall space or those at home who want to display more than just earrings. Enjoy!