We had a lot of fun putting together our baby room over the last couple months. Now that baby Gabe is here we are enjoying it even more! Before we knew what the sex was we decided we were going to stay neutral with our color pallet either way. I'm not a huge fan of the bright blue or pink traditional color pallets so we picked out this earthy green paint and went from there. I knew I wanted to theme the room with forest creatures and Pooh bear so our first big purchase was our classic Pooh bed set on clearance (always a thrifty shopper!). Our furniture came from Ikea, the little bear chair from a thrift store for $5, some fun Etsy posters and the rest is handmade.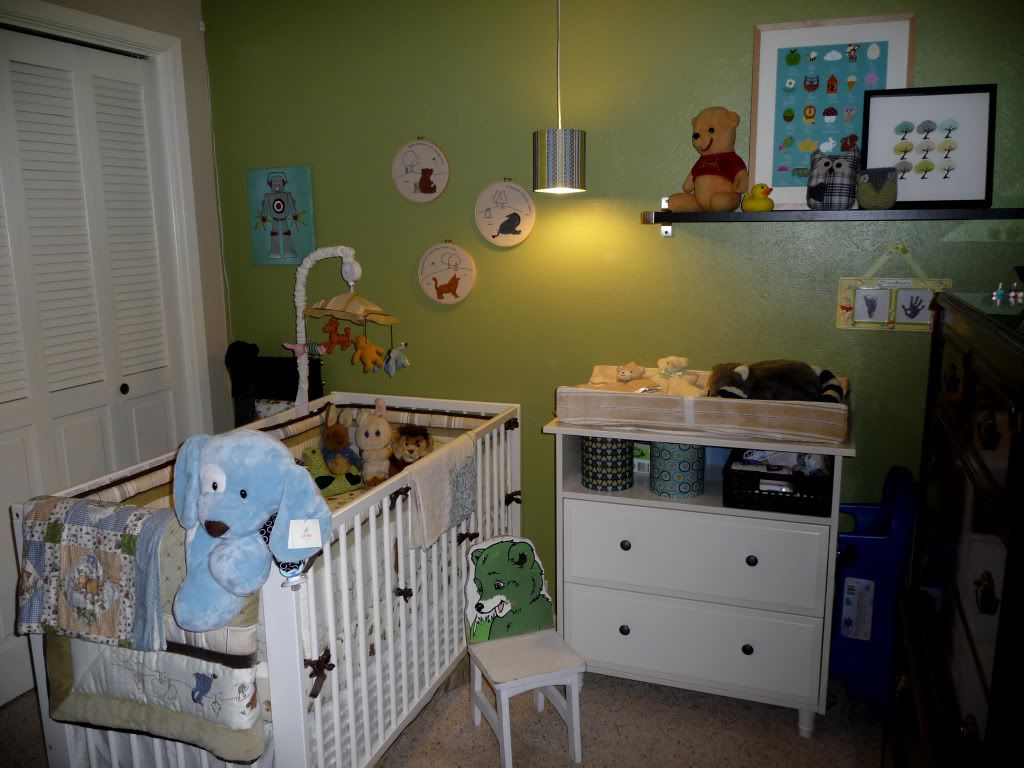 The poster below came from a craft fair two years ago and the sock monkeys a friend made for me and baby. I hope to have an entire army of sock monkeys by the time he's old enough to play with them. I adore them. :) The robot painting on the right was given to us by another friend. It isn't Pooh bear but it matches our color pallet and is a nice contrast.
One of the first projects I started for the baby room was these Pooh bear wall hangings that matched the new bed set. I cut the characters out of felt and hand stitched the details along with the quote, "You are braver than you believe, stronger than you seem, and smarter than you think" by Christopher Robin. I'm pretty happy with how they turned out.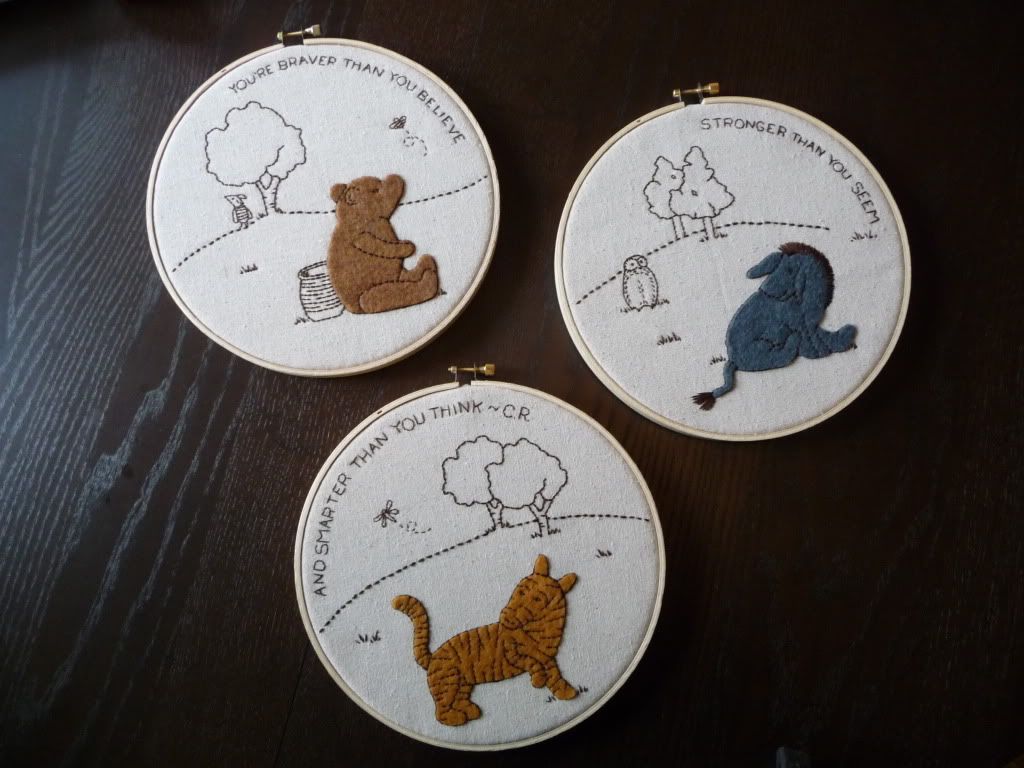 Its not handmade but I love this classic Pooh cookie jar that a family member gave us. It fits in the room perfectly! Also, you can't forget about my fabric covered coffee cans I made for storage and lighting. They were so fun and easy to make. Check out
HERE
for a DIY tutorial.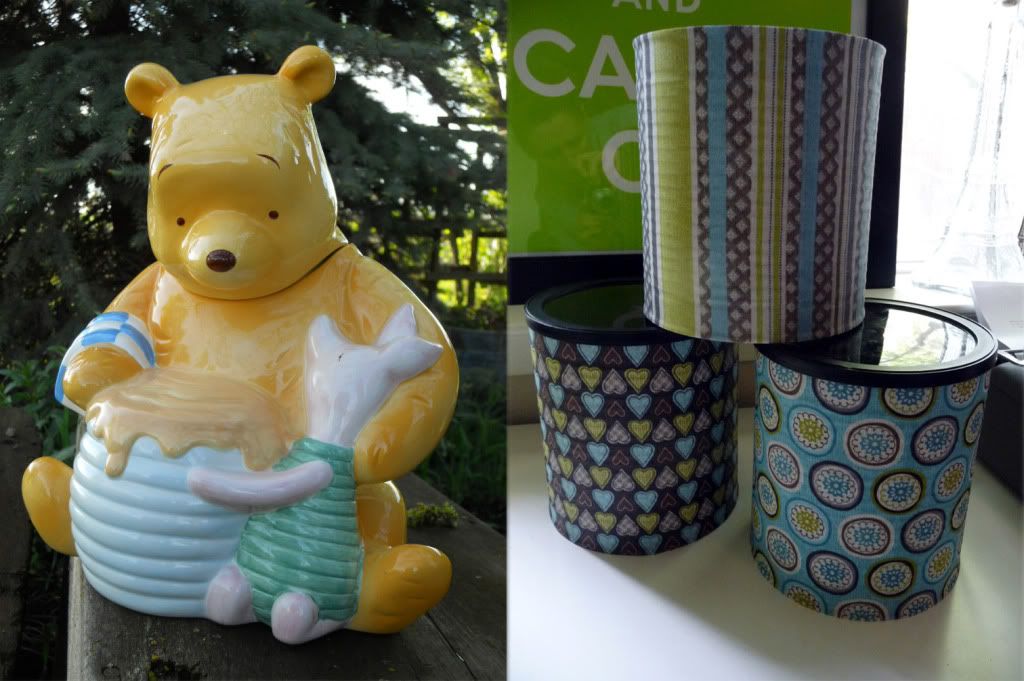 A few of my favorite things in the room are displayed on this shelf above the changing table. They include my vintage Pooh bear that I had when I was little, an alphabet poster with woodland creatures by
Green Nest
, another adorable tree print I picked up from
Laura George
, and a collection of owls including a candle by
Pommes Frites
.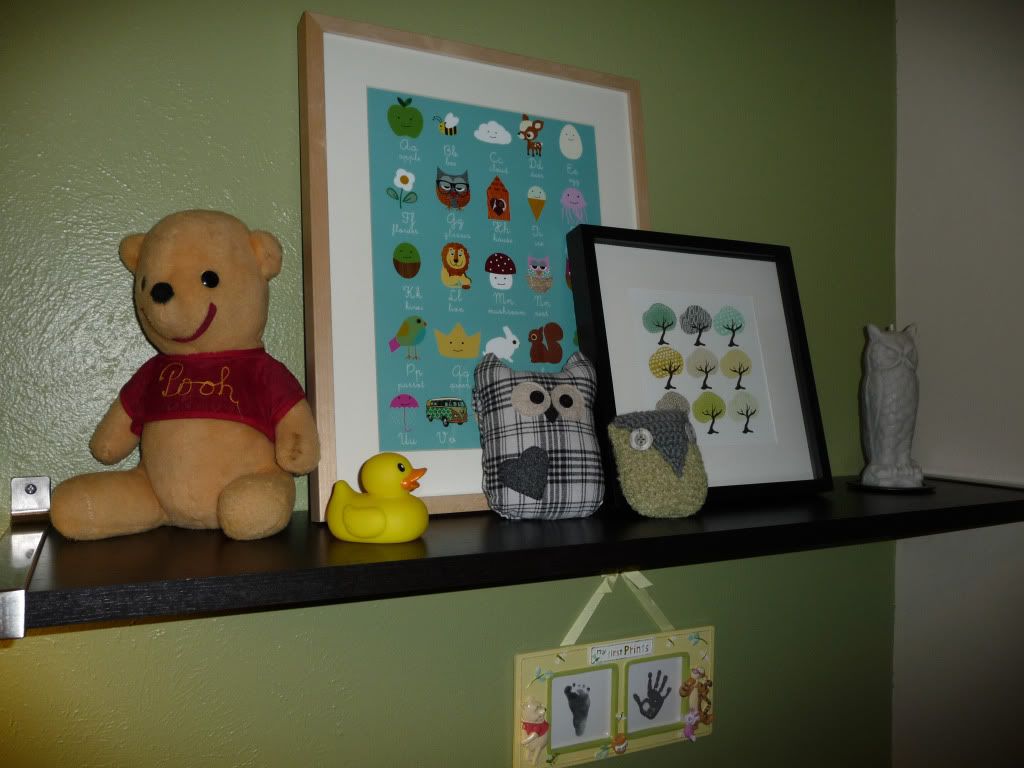 Hope you enjoyed taking a peak at our Pooh bear room. Happy Friday!